Description
IDC-belt harness!
The new generation by Julius K9!

INNOVA DOG COMFORT (IDC)


The K9 harness, that has performed extraordinarily successfully in the market for 10 years, has exceeded expectations regarding further developments.
Our department of innovations has polished a success product into a real diamond.
Ergonomic perfection and communicative design with the main emphasis on safety and comfort.
The technical and optical perfecting of a unique success product for the active service and family dog as well as for the day to day use of people and their dogs.

Perfect is just not good enough for us!
The IDC- belt harness comes in the same best quality and functionality like our regular IDC power harness. 

Made from hard-wearing nylon.

Central ring for lead or line attachment.

Handle for added security and handling in training etc.
Use changeable patches and let your dog talk!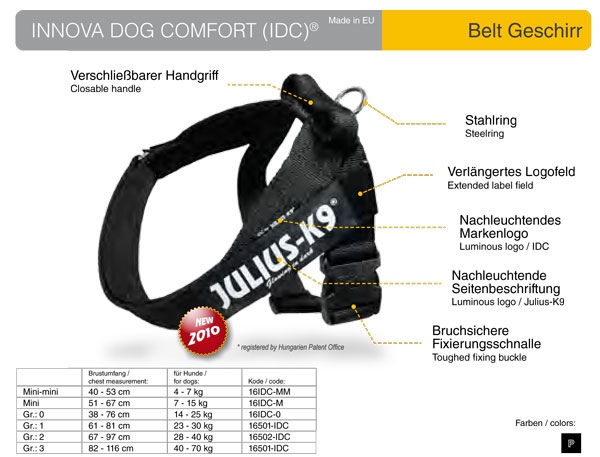 Innovative, sporty and dynamic design!

Julius K9 IDC-belt harness

probably the best dog handling and training equipment in the world!  

Ergonomic perfection with perfect line adjustment

excellent pressure dispersing function

Ecological lining - breathable and skin friendly

Shatterproof fixing buckle for safety and comfort

Luminous side patches - standard with brand logo

Pressure tested safety belts - the highest possible security

Enlarged Logo field

Always bright, interchangeable side patches

Joint product of German, Austrian and Swiss material suppliers in cooperation with European small businesses

Tested by top dog trainers
Cleaning:
 hand-wash at at 90°F with soap; do not put in washing machine or use any chemicals. Central ring for lead or line attachment. Handle for added security and handling in training.




 

Sizing:

 

 

Size mini-mini


 

Chest measurement: 15.75 - 21 inches / 40 - 53cm

Size mini
Chest measurement: 20 - 26.4 inches / 51 - 67cm



Size 0 


 

Chest measurement: 22.8 - 30 inches / 58 - 76cm
Weight: 30 - 55lbs / 13,5 - 24,5kg



Size 1
(f.e. Terrier).
Chest measurement: 26 - 33.5 inches / 66 - 85cm
Weight: 50 - 66lbs / 22,5 - 30kg


Size 2


 

 

(f.e. Labrador retriever, Beagle, Border Collie, Cockers, Saluki, Schnauzer, Basenji, Afghan, Airedale, Boxer, Briard, Dalmation, Doberman, Greyhound, German Shepherd, Husky, Pointers, Retrievers, Setters, Springers, Weimaraner).
Chest measurement: 26.4 - 37 inches / 67 - 94cm
Weight: 61 - 88lbs / 27,5 - 40kg

 





Size 3
(f.e. Mastiff, Clumber Spaniel, Giant Schnauzer, Great Dane, Newfoundland, Ridgeback, Rottweiler).
Chest measurement: 32.3 - 45.7 inches / 82 - 116cm
Weight: 88 - 176lbs / 40 - 79kg


 

 


the new IDC chest padding is not incl.! Please take a look in accessories.
Question on item