Description
IDC-powerharness!
The new generation of the original powerharness by Julius K9!

INNOVA DOG COMFORT (IDC)


Quality development
On the earlier K9 power harnesses creasing and unevenness were observed on the side of the straps during on the leash or free movement. Our revolutionary new side patches were not readable at all from above due to the previous positioning and lack of space on the smaller 2 - 33lbs dogs.

With the help of the Innova Dog Comfort - IDC we have found the perfect solution for both problems:

1. there are no longer creases on the harness or on the straps
2. the patches are readable from any angle



The usual high quality power points by Julius K9-power harness are combined with the properties of the new IDC-Power harness:

Innovative, sporty and dynamic design!

Julius K9-IDC power harness

probably the best dog handling and training equipment in the world!  
Ergonomic perfection with perfect line adjustment

Ecological lining - breathable and skin friendly

Shatterproof fixing buckle for safety and comfort

Luminescent page description - standard with brand logo

Light-reflecting chest strap and border decoration

Pressure tested safety belts - the highest possible security

Two flashlight mountings for size 1-4, one for size 0

Enlarged Logo field

Maximum safety grip-fixing by push button (size 0 - 4)

Side pockets fixation (3 +1 system)

Always bright, interchangeable side labels

Joint product of German, Austrian and Swiss material suppliers in cooperation with European small businesses

Tested by top dog trainers



Usual power points speak for the IDC-Power harness:
most of the parts are made in Germany!

The quality is unrivalled, our prices unbeatable.

Used by most of the european police, Schutzhund, armed services, prisons, customs and commercial security.

We have a life time of association with working trials, agility and obedience. Our products are based upon the practical demands of a working dog team.

We can guarantee that our products are unequalled in quality and finish, and unbeatable on cost.

Easy handling, not complicated like other harnesses. Just pull the power harness over the head from the dog and klick in the power buckle.

The size can be adapted perfectly, perfect fit.

No movement restriction.

Hold or uplift the dog with the strong handle.

Reflective tape and reflective edge.

Flashlight mounting (not for size Baby1 - mini available).

Made from hard-wearing nylon.

Paddes and lined with cotton for comfort

Reflective chest belt

Very popular in Germany and Europe

 






Cleaning:

hand-wash at at 90°F with soap; do not put in washing machine or use any chemicals. Central ring for lead or line attachment. Handle for added security and handling in training.






Sizing:

Size Baby 1
(the flashlight mounting is not available for this size).
Chest measurement: 11.4 - 14.15 inches / 29 - 36cm
Weight: 1.75 - 6.6lbs / 0,8 - 3kg

size Baby 2
(the flashlight mounting is not available for this size).
Chest measurement: 13 - 18 inches / 33 - 45cm
Weight: 4.4 - 11lbs / 2 - 5kg

Size mini-mini
(the flashlight mounting is not available for this size).
Chest measurement: 15.75 - 21 inches / 40 - 53cm
Weight: 8.8 - 15.5lbs / 4 - 7kg

Size mini
(the flashlight mounting is not available for this size).
Chest measurement: 20 - 26.4 inches / 51 - 67cm
Weight: 15.5 - 33lbs / 7 - 15kg

Size 0
Chest measurement: 22.8 - 30 inches / 58 - 76cm
Weight: 30 - 55lbs / 13,5 - 24,5kg

Size 1
(f.e. Terrier).
Chest measurement: 26 - 33.5 inches / 66 - 85cm
Weight: 50 - 66lbs / 22,5 - 30kg

Size 2
(f.e. Labrador retriever, Beagle, Border Collie, Cockers, Saluki, Schnauzer, Basenji, Afghan, Airedale, Boxer, Briard, Dalmation, Doberman, Greyhound, German Shepherd, Husky, Pointers, Retrievers, Setters, Springers, Weimaraner).
Chest measurement: 28 - 38 inches / 71 - 96cm
Weight: 61 - 88lbs / 27,5 - 40kg

Size 3
(f.e. Mastiff, Clumber Spaniel, Giant Schnauzer, Great Dane, Newfoundland, Ridgeback, Rottweiler).
Chest measurement: 32.3 - 46.5 inches / 80 - 112cm
Weight: 88 - 176lbs / 40 - 79kg



Size 4
Chest measurement:  over 43 inches / 110cm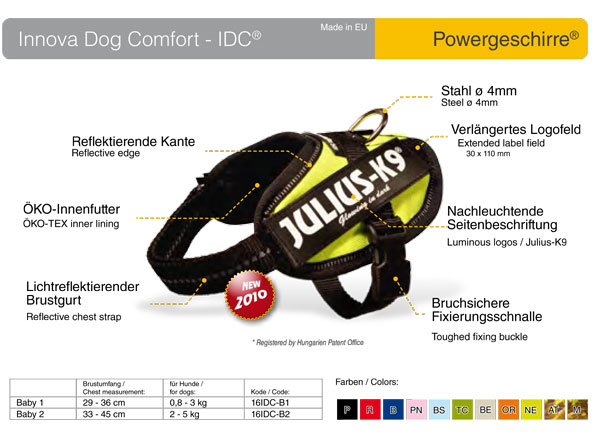 Size 0: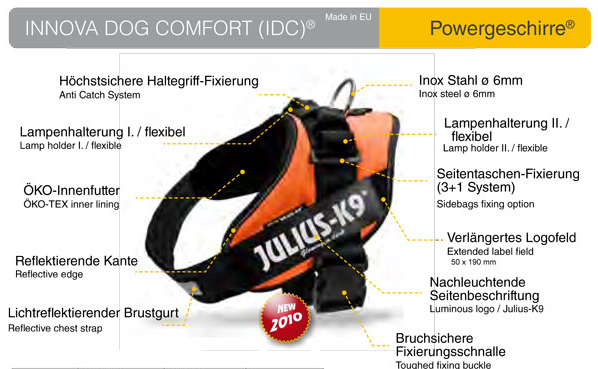 Question on item